22, December 2017
Krissi Barr On Strategy: Women Entrepreneurs Radio
Krissi Barr, CEO of Barr Corporate Success, discusses strategy in her interview on Women Entrepreneurs Radio. Hosted by Deborah Bailey, this was the second time Krissi was chosen as the featured guest. Click here to listen!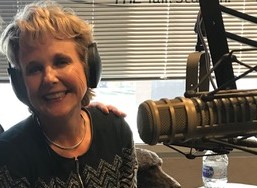 "The focus of the interview was my first book, Plugged," said Krissi. "It's a business strategy book with a golf theme. Plugged is a fable that shows how anyone can dig out and get the right things done, at work or in any aspect of life. And getting the right things done is the essence of strategic planning and thinking."
The core message from Plugged is PAR. That acronym stands for:
P = Prioritize, focus on what matters most
A = Adapt, see change as an opportunity
R = be Responsible, take ownership of the outcome
These three simple ideas can help anyone, and any business, succeed at a higher rate. The first element of PAR is Prioritize. Business leaders need to identify what matters most so they can focus their resources on achieving it. "Without clear priorities, everything is difficult," said Barr.
The second element is Adapt. "People naturally resist change," Krissi continued. "And yet the greatest opportunity belongs to those organizations that are able to adapt their business model to the new demands of the marketplace. At the core of this is the need to reframe your team's mindset as it relates to change."
The third element in PAR is the need to be Responsible. "You can have brilliant priorities and a team that embraces change," Barr said, "but if there is no sense of personal ownership and responsibility, it's an uphill climb."
Barr Corporate Success is a results-oriented consulting company based in Cincinnati. For over 15 years, Krissi Barr's customers have relied on her sage advice in the creation of strategic plans. Many of those clients also utilize her strategy pull-through consulting to ensure the plans get fully implemented. To buy a copy of Plugged, or to discuss how Krissi could help your business dig out and get the right things done, contact Barr Corporate Success.