12, September 2017
The Fido Factor is published!
The Fido Factor is now available!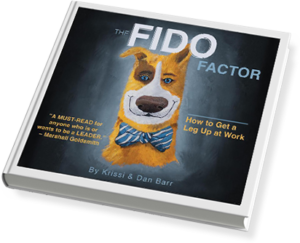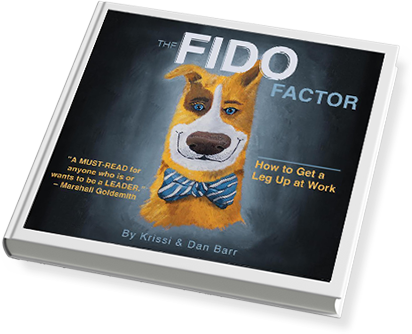 The Fido Factor: How to Get a Leg Up at Work, is an insightful, innovative new leadership book. In The Fido Factor (Barr Corporate Success; September 12, 2017), authors Krissi and Dan Barr focus on a model of leadership that nearly everyone can relate to…dogs!
Grounded in Krissi's expertise as a leadership coach and Dan's years of experience as a business executive, The Fido Factor is a step-by-step guide to business success that's as appealing as a puppy.
The Fido Factor's core message is that dogs can motivate each of us to become a more effective leader at work. Why dogs? "Dogs have proven leadership genius. They're naturals at exhibiting the traits needed to be leader of the pack," Krissi and Dan note. Since 44 percent of U.S. households have at least one dog, there are a lot of canine-loving leaders who see the parallels.
The Fido Factor is a fresh take on leadership that's as powerful and practical as it is approachable and relatable. A quick read that's sprinkled with humor, The Fido Factor is the perfect tool to help anyone get a leg up at work.
The Fido Factor is available as in hardcover and Kindle formats at Amazon.com.